April 28, 2021
A Stylish Pendant by Jarvie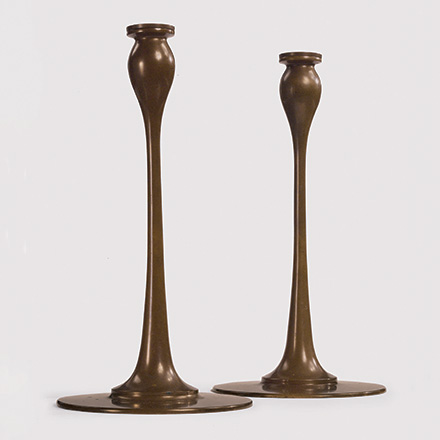 As part of the Two Red Roses Foundation's (TRRF) continuing effort to collect important works of art for loan to the Museum of the American Arts and Crafts Movement, it recently acquired a one-of-a-kind necklace (fig. 1) by Chicago, IL, artist Robert Riddle Jarvie.
During the late nineteenth and early twentieth centuries, Chicago was a major epicenter for handwrought Arts and Crafts metalwork. Self-taught like many other craftsmen during this time, Jarvie worked as a metalsmith there from 1895 to 1920. He created progressive, modern designs in copper, brass, and bronze, and was best known for his candlesticks (fig. 2). The TRRF necklace is one of only three known pieces of jewelry executed by Jarvie. Wrought from sterling silver and set with four cabochons of chrysoprase – a green, semi-precious gemstone – the pendant suspends from a simple, paperclip-style chain.
In a 1910 advertisement, Jarvie solicited potential customers for their old, outdated silver, so he could refashion their "cast off pieces" into new "charming things." It is possible that Jarvie used recycled materials to create TRRF's necklace. MACCM is very excited to have the opportunity to include this unique necklace, and other objects from the Foundation's metalwork collection, in its future exhibitions.
---
2021 Commercial Project Awards
MAACM is honored to be recognized as a winner in the 2021 Commercial Project Awards presented by Guardian Glass. Congratulations to Alfonso Architects, the glaziers at MG McGrath, and the fabricators at Oldcastle BuildingEnvelope and Cristacurva for their involvement in our award-winning construction project. Click here to read more about the award.
---
Happy Volunteer Appreciation Month
We love our docents-in-training!
Did you know April is Volunteer Appreciation month? Today we are celebrating our soon-to-be docent graduates at the Museum of the American Arts and Crafts Movement. Our docents come from a wide range of backgrounds but all have a love of art and can't wait to share the collection with the community. Our docents have been studying the collection and practicing their museum teaching skills to be ready to give tours to our visitors when MAACM opens.
Thank you MAACM docents for all you do!
If you are interested in joining the next docent class or other volunteer opportunities at MAACM, send an inquiry to volunteers@museumaacm.org
---
When you support the Museum of the American Arts and Crafts Movement, you are keeping creativity alive. The Arts and Crafts reformers of the early twentieth century developed a visual language promoting quality materials and simplicity in design that is as inspiring today as it was a century ago.
Join us in our mission to promote this important period of art, architecture, and American history by making a deeper commitment to MAACM. View our patron membership levels here and our general membership levels here.
Contact Betsy Walch, Director of Development, with questions about memberships.