A cornerstone of MAACM's mission is our commitment to education and furthering the scholarship of the Arts and Crafts movement. That promise is realized in the Museum's Library, located on the main floor near MAACM's entrance. Elegantly furnished with period objects, and filled with contemporaneous and modern books and periodicals on the Arts and Crafts movement, MAACM's Library is a treasure trove of knowledge and information.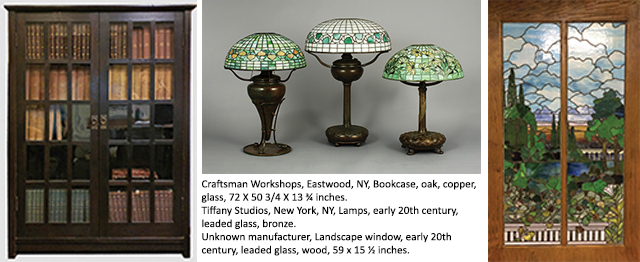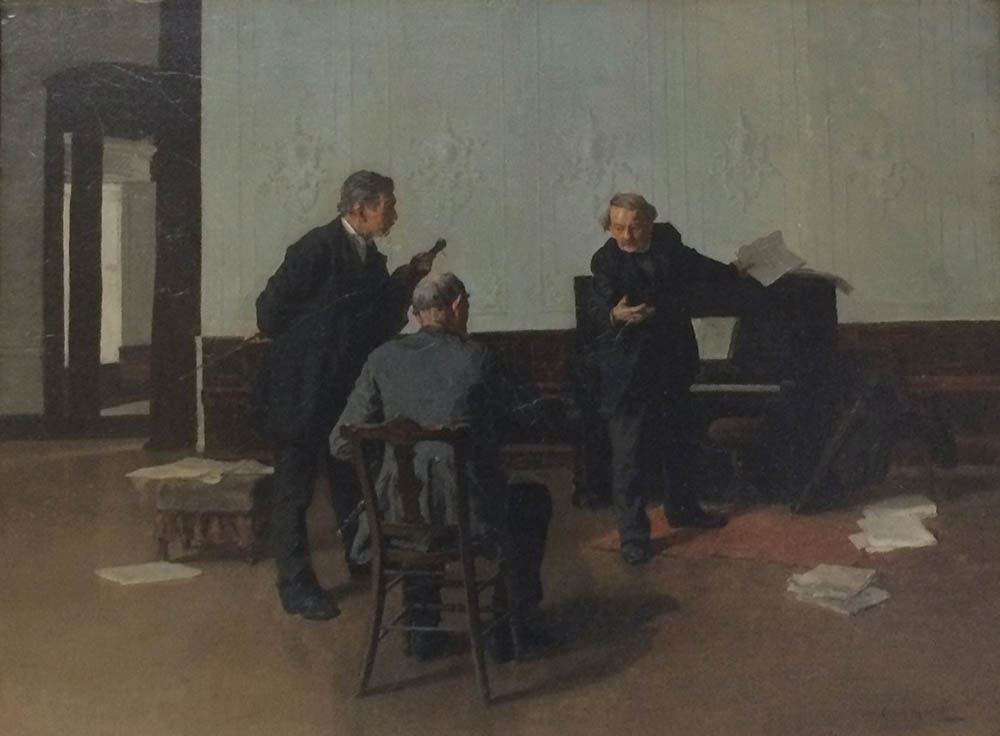 The Library's interior is framed by quarter-sawn oak wainscoting with beautiful, period-inspired wallpaper. Furnishings, donated to the Museum from the collection of the Two Red Roses Foundation (TRRF), include Gustav Stickley and L. & J. G. Stickley bookcases, antique library tables, desks, chairs, and magazine stands. The room is further decorated with leaded glass windows, Tiffany lamps, a tile mural, and a collection of oil paintings by Louis Charles Moeller—all coming together to create a perfectly articulated space inspired by the Arts and Crafts movement.
The MAACM Library serves as the repository for a growing collection, donated by the TRRF, of books, journals, periodicals, and auction catalogues, focusing on architecture, design, printmaking, photography, and decorative arts. While not a traditional lending library, the collection is searchable via computer stations outside the Library or on MAACM's website, and visitors interested in looking at books or other materials can do so in the Library's Reading Room by appointment.
Adding charm and character to MAACM's Library are a collection of Louis Charles Moeller's oil paintings. Moeller was a popular American genre painter during the late 19th and early 20th centuries. He was born in New York City on August 5, 1855, and received his earliest art training from his father, a portrait and decorative painter. He later went on to study at Cooper Union and the National Academy of Design under Lemuel Wilmarth, then spent six years in Munich studying with painter Frank Duveneck. Returning to America in 1882, Moeller opened a studio in New York and began to concentrate on cabinet-size genre paintings. His works were characterized by attention to facial expressions and gestures, as well as precisely rendered backgrounds. Moeller was called "one of the most dramatic painters of the day" by The Quarterly Illustrator in 1894. His favorite subjects were distinguished elderly gentlemen going about their daily activities in gentle interior settings, such as the examples in MAACM's Library.