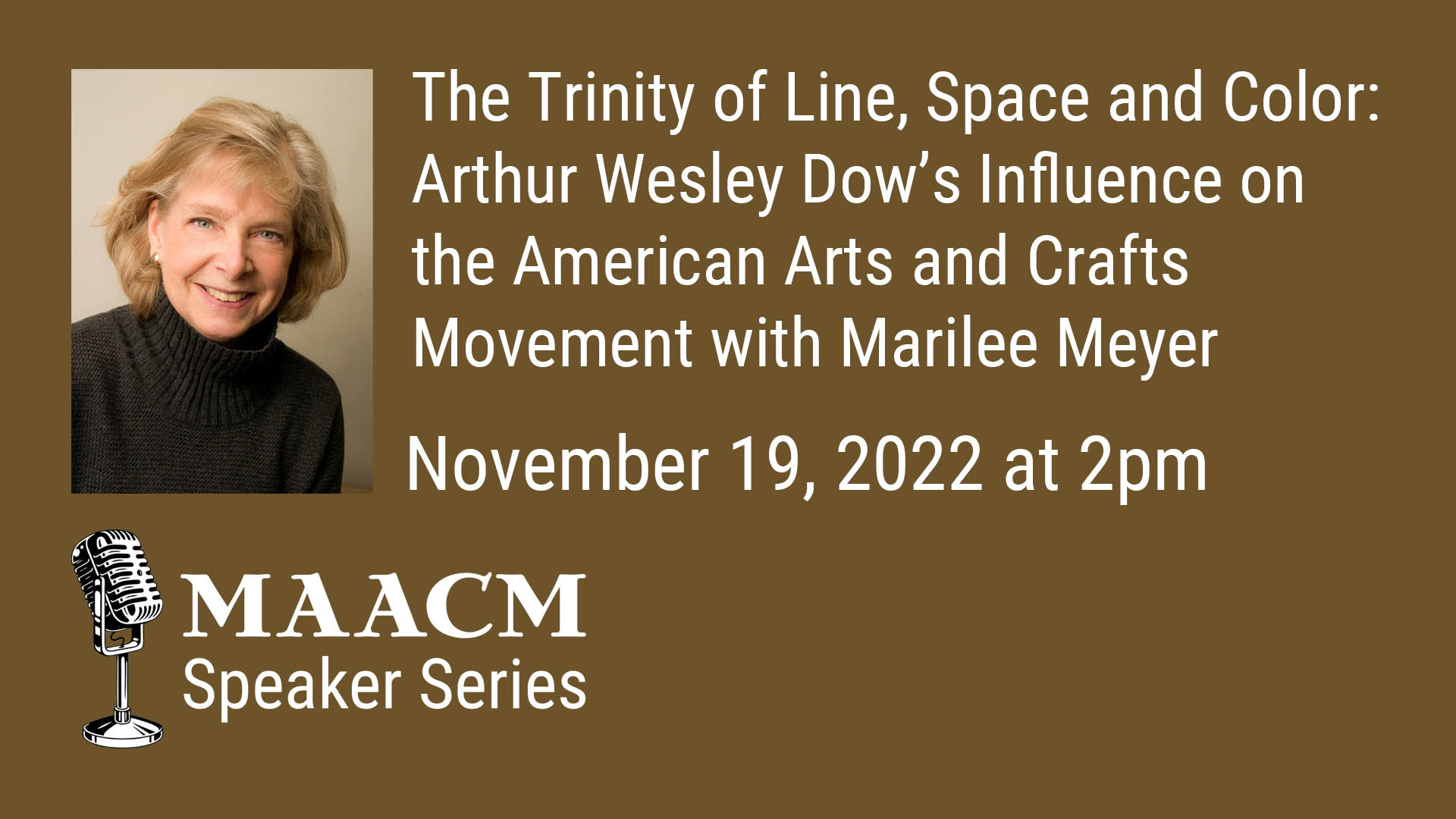 MAACM Speaker Series
The Trinity of Line, Space and Color: Arthur Wesley Dow's Influence on the American Arts and Crafts Movement with Marilee Meyer
Clam Houses, c. 1910
Arthur Wesley Dow
Painter, printmaker, and photographer, Arthur Wesley Dow made his greatest contribution to American art not as an artist, but as a lifelong teacher and author. His innovative approach to design, canonized in his seminal manual Composition in 1899, taught his followers to see the essential elements of art and trained teachers to spark interest in budding artists, especially public-school children. His approach to the ideals of harmony, simplicity, and beauty nurtured what would become "the New Art", a term which de-mystified creativity. It has been said that there is not a single aspect of the Arts and Crafts movement and even Modernism that hasn't been touched by Dow's progressive "visual music" of line, space, and color. The impact of Dow's principles is a rich and complicated tale of connections in virtually all artistic media.
About Marilee
Marilee Meyer has been immersed in the decorative arts, design and social reform history of the Northeast at the turn of the 20th century for more than 40 years. An independent appraiser and consultant, she graduated with a BA in Art History and American Studies from Skidmore College. Working in collections storage at the Society for the Preservation of New England Antiquities (now Historic New England), she was introduced to American art pottery and related art. Her interest in antiquities then lead her to Skinner, Inc, Auctioneers in Bolton, Massachusetts, where she founded and directed the Arts and Crafts Department for ten years.
Since 1990 Meyer has been a guest curator for several exhibitions of Arts and Crafts decorative arts including Early Newcomb Pottery from the Barbara and Henry Fuldner Collection (2016) at the Stickley Museum at Craftsman Farms; Arthur Wesley Dow: His Art and His Influence (1999) for the Spanierman Gallery, New York City, and Inspiring Reform: Boston's Arts and Crafts Movement (1997) at the Davis Museum and Cultural Center, Wellesley College and the Renwick Gallery, Smithsonian Institution (1998), for which she was awarded the Frost Prize for Outstanding Scholarship from the American Institute of Architects.
Meyer has lectured extensively at national venues including New York University, Wellesley College, Los Angeles County Museum of Art, Cincinnati Art Museum, Museum Of Fine Arts, Boston, and Grove Park Inn, Ashville, North Carolina. She and colleague Susan J. Montgomery are currently working on a publication on Arthur E. Baggs and Marblehead Pottery.
Date: November 19, 2022 at 2pm
Tickets required:
MAACM Members: $15
Non-Members: $20